This is Angie, Todd and Baby Audrey. Their story like so many of ours is touching, tender and breaks your heart. Audrey at her 20 week ultrasound was found to have many complications that would not allow her to survive long outside of the womb. Angie tells her story candidly through journaling her story in real time on the blog she made for Audrey, "
Bring The Rain
".
Angie and Todd are devout Christians and you can tell of their commitment to their beliefs through Angie's writings. Todd, Angie's husband is also in the Christian vocal group
Selah
. They have traveled to India to give of their time and hearts to the children in orphanges and children living in poverty. Angie and Todd have started so many good causes to help lift and aid others. I am truly inspired by her and have loved visiting her blog over the years. Angie's latest adventure has been the birth of her rainbow baby Charolette.
I loved it. What more can I say?
Audrey's story is quite long and intense so be prepared to curl up and bring some tissues.
You'll need them.
The Story of Audrey Caroline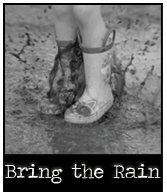 Finally, I love this picture.
This picture is an excellent portrayal of how my heart feels on a daily basis.
Visit Angie and Audrey at
Bring the Rain
, leave her a comment and let her know we sent you!